Web Development Interns Fall 2023
Are you our new intern?
At Novicell, we take great pride in having a diverse community of students and interns who bring fresh perspectives and exciting knowledge to our company. That's why we're passionate about fostering a curious and educational workplace for our junior team members:

👩‍💻 At Novicell, we like to call all of our students and interns Junior Consultants or Junior Developers. This underscores the value of the important work they do, both within and beyond our organization. When you join us, you'll work on real cases and projects for real clients, just like the rest of the team.
🚀 We put great emphasis on your development, and we believe that we ensure your development best through continuously feedback and guidance from relevant managers and specialists.
📝 We see great value in collaborating with our students on their assignments as well as their bachelor's and master's thesis. We're happy to share data and projects whenever possible to help you achieve your goals.
👨‍🎓 At Novicell, we understand that your studies are a top priority. That's why we offer flexible working hours and hybrid work arrangements to accommodate your schedule.
🎉 Last but not least, we organize social events for our junior team members to foster a sense of community across departments. Whether it's a casual lunch on a regular Monday or a Friday night pub crawl in downtown Aarhus, we're always finding ways to connect and have fun.
Get a sneak peek and discover what it's like to be a junior employee at Novicell here
A Wide Range of Opportunities
Novicell is a full-service digital consultancy that specializes in digital business solutions for both medium and large companies in Denmark and abroad. There are more than 400 employees employed worldwide, each with its own unique profile, skill set, and educational background.
At Novicell, you have excellent opportunities to pursue your interests as we have a wide range of competencies within our field. This means that we have a diverse team of specialists from whom you can learn. If you don't find the right fit initially, there are always plenty of opportunities to explore other areas within Novicell.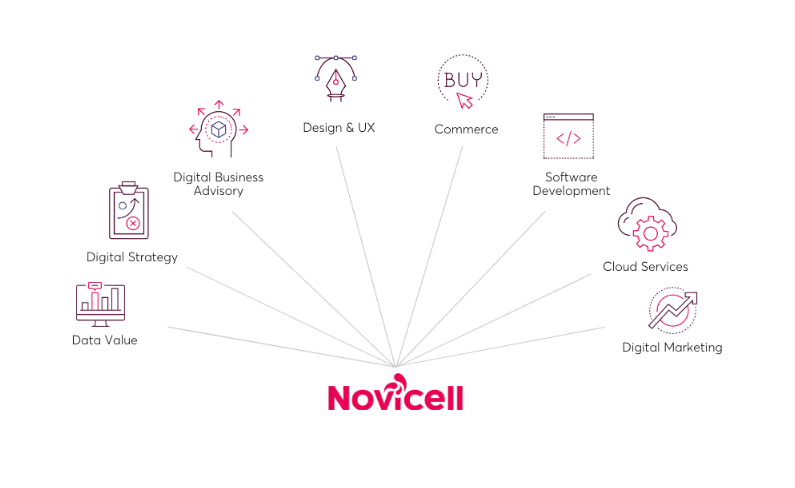 A 'flink' and 'flittig' workplace

Work amongst innovative and inspiring colleagues in a challenging work environment, in which your contribution is highly valued. Here at Novicell we have replaced extensive employee handbooks and ancient rules with dialogue, responsibility, and trust. We encourage social interaction to create an even better work environment and it is our shared opinion that work must be enjoyable! We strive to have fun while delivering the best results possible - why else devote so many waking hours together?
Novicell's motto is 'flink" and "flittig" which is Danish for "kind" and "diligent". This means we treat each other well while providing the best possible service to our clients. More specifically this means we offer:
An informal organization with a large degree of freedom and flexibility
A creative and inspiring environment with the chance to influence the organization's development
A strong social culture with many active and social activities and events
The industry's most "flinke" and "flittige" colleagues
And that's not all - we also offer a delicious breakfast and lunch prepared by our very own chef. So, whether you're a foodie or a fitness enthusiast, we've got you covered! 
When applying for an internship at Novicell
At Novicell, we are looking for interns who are passionate about their field and are excited about the prospect of working with us. When applying for an internship, we encourage you to be as specific as possible about your goals and aspirations, and how you see yourself contributing to our team.
We want to know what drives you, what inspires you, and where you see yourself fitting within our company. Whether you're interested in project management, backend development, frontend development or another area of our business, we want to hear about your specific interests.

So don't hold back – tell us about your dreams and goals, and how you can see yourself contributing to the success of our company. We can't wait to hear from you!
Practical information
You are welcome to submit your application and CV in Danish or English. This will have no impact on our assessment of your profile or your skills.

We do encourage you to be very 
We process applications on a continuous basis and close the job opening once the right candidate has been found. Get in touch today and we will be happy to have a chat about your career opportunities at Novicell.
Locations

Aarhus, Aalborg

Employment type

Internship
3.
1. Interview and DISC profile analysis
Web Development Interns Fall 2023
Loading application form